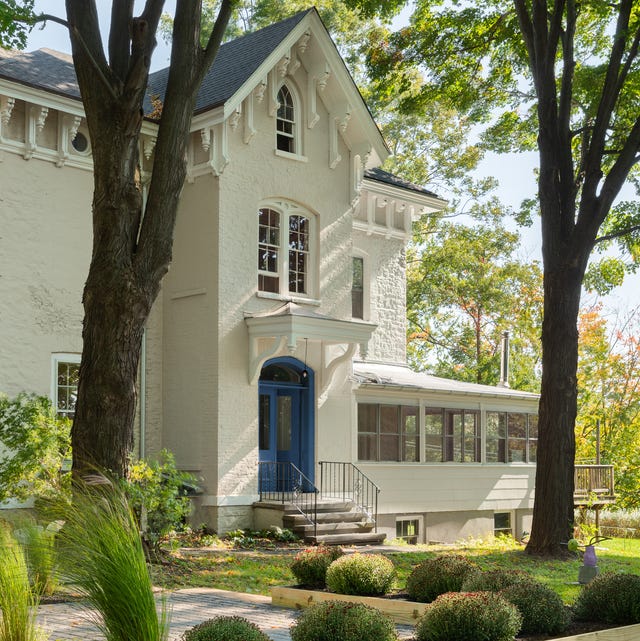 Courtesy Kingston Design Connection
Many home renovations planned for this year were delayed, rescheduled, or put off entirely due to the COVID-19 pandemic. But in New York's Hudson Valley, a group of designers banded together to undertake what might have been one of the year's most ambitious renovations. For the third annual Kingston Design Showhouse (see last year's here!), Kingston Design Connection founder Maryline Damour didn't let the year's hurdles get in the way of producing a gorgeous, inspiration-filled showcase of upstate design talent. And the result might be just what we need right now: From a treehouse-inspired bedroom getaway to the dream WFH setup (for kids and adults!), there's no shortage of inspo in the house. Take the virtual tour below.
1
Bring Nature in
As most of us learned this year, your home being a happy place is more important than ever. "It's about how you feel the moment you walk in the door," says Ana Claudia Schultz of Ana Claudia Design. To set the tone for a relaxing-yet-inspiring home (and bring the outdoors in—an important factor if you can't go outside!), Schultz paired an oversized mountain range wallpaper motif by Fromental with a sky-blue pendant from Currey & Company. Meanwhile, the Liza Phillips carpet looks like a waterfall descending the stairs.
2
Surround Yourself With Good Books
What better place to be when stuck inside than a well-stocked library? Not only is the room Patrick Ryan of Patrick Ryan's Office created full of inspiring reads, it's stocked with inventive, iconic—and eco-conscious—furniture, like a Noguchi coffee table and paper lantern and a lounge chair from FN Furniture made with zero waste.
3
Make Your Kitchen Multifunctional
Whether it's baking sourdough, solo cocktail hours, or homework before dinner, the kitchen has become a much busier space for many families recently. With its combination of chic dark countertops and a rustic wood table, Meg Lavalette of Lava Interiors created a space you could easily spend all day in—without resorting to the dreaded massive island.
4
Upgrade Your Home Office
If you're still working from a makeshift setup on your dining room table (guilty), Damour Drake's office space might give you the push you need to rethink a WFH space longterm. The bright, cheery room has everything you need to get work done, without sacrificing aesthetics. After all, as working from home continues to stretch on, it doesn't make sense to relegate your desk to a back closet anymore. The bold pistachio hue of Sheila Bridges's iconic Harlem Toile would make the best zoom backdrop—especially when capped off with the sky blue ceiling and grounded by a woven rug from Aleman/Moore.
5
…and Make Room for Kids
This redefined office space also features a kids area, complete with a custom wood desk that can be easily toted via a built-in handle.
But this space goes deeper than just pretty things, too: "I also wanted to reference the conversations we're all having about inclusion and diversity and showcase how we can express that in our environment," says Damour.
6
Bring Back the Dining Room
While open floor plans have long been a hotly-contested topic, this year's increased time at home has brought the debate back to the forefront: When the whole family is cooped up at home together, you might want rooms that are walled off from each other. Plus, a designated dining room, like this one, which Hendley & Co.'s Jessica Lynn Williams decorated with a delightfully eclectic mix of colors and furniture, allows for meals that are special occasions—not just food scarfed down on a Zoom call.
7
Get Your Dose of Sunshine
Anyone else missing sunlight this year? Krishna Fitzpatrick's sun room is the antidote we all need. The cozy space eschews window treatments to allow for maximum light, but achieves warmth with plush fabrics, natural materials, and lots of layers. And yes, indoor plants have never been more important!
8
Find a Retreat
While we're all missing togetherness, if you live with others alone time is key, too. That's what we love about KD Reid's jewel box of a getaway on the home's top floor. Dubbed the "modern treehouse," the room is full of colors and textures drawn from the landscape around the house—all visible from its windows.
9
Rediscover Your Passions
Perhaps you picked up a new hobby in quarantine; perhaps you used this time to rediscover an old passion. Either way, carving out space for them is key to maintaining mental health. Jennifer Salvemini created a designated listening room with speakers, good acoustics, comfortable furniture, and the right lighting to set a relaxing mood.
10
Create an Oasis
Comfort in our homes has perhaps never been more important, and here, Ariana Winston achieves that quite literally with a soft palette, plush layered rugs, and a tented ceiling that makes the bedroom feel like a cocoon.
11
Bring the Party Home!
Just because you can't leave the house doesn't mean you can't party, of course! Matthew Marchese's cheekily-titled "Members Only Lounge" provides a space where you can feel like you're out on the town—without setting foot outside the door.
This content is created and maintained by a third party, and imported onto this page to help users provide their email addresses. You may be able to find more information about this and similar content at piano.io