LEAVE IT TO Senate President Pro Tem Sharon Carson, R-Londonderry, to describe the state of affairs in the Legislature last week.
"It's kind of the silly season where bills get attached left and right," Carson said.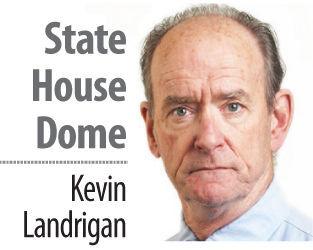 As the 2022 legislative session began to draw to a close, senior lawmakers made one last-ditch attempt to revive issues that weren't going anywhere.
This is the time of year when the deliberative process takes a holiday, as heads of the House of Representatives and the state Senate desperately try resurrect bills the other branch is preparing to kill.
For example, supporters of allowing adults to grow their own marijuana plants at home attached that House bill (HB 629) to one that deals with the criminal penalty for escape (SB 299) from custody.
House Republicans got a second bite of the apple for their controversial bill to limit how long the unemployed can get benefit checks once the jobless rate goes below 3% (HB 1337).
The House slapped it onto a bill dealing with highway and bridge construction aid (SB 401).
Those opposed to vaccine mandates in the House got their colleagues to give new life to a bill the Senate killed that would allow anyone to be a conscientious objector to any vaccine if they are a college student or employee at a private company that takes government dollars.
This was slipped onto a Senate-passed bill dealing with the coverage of post-partum care under Medicaid (SB 407).
Republican lawmakers weren't the only ones throwing Hail Marys.
The Senate agreed to give Sen. Tom Sherman, D-Rye, another chance on his bill to promote the purchase of American products from New Hampshire employers for large-scale state construction projects.
Sen. Jay Kahn, D-Keene, got one of the biggest (dollar-wise) amendments. The Senate endorsed $5 million in additional aid for homeless programs, tacking that amendment on a bill dealing with the obligation of Health and Human Services to protect personal privacy (HB 1622).
Flip-flop on buffer zone
Last week, Gov. Chris Sununu warned lawmakers that he would veto legislation on its way to his desk that would repeal the requirement for a 25-foot buffer zone around abortion clinics (HB 1625) inside which protesters can't demonstrate.
"There's no need for that," Sununu said.
However, when Sununu was courting social conservatives during his first run in 2016, he committed to backing five issues of interest to them.
One of them was the "N.H. Buffer Zone Repeal" and another was "Late-Term Abortion Ban."
"As you know, I have always opposed taxpayer funding for abortions," Sununu said in this commitment letter to two-time nominee for governor and anti-abortion leader Ovide Lamontagne of Manchester.
"It is important for conservative voters to know that I too support many of the common sense platform initiatives that they want to see passed."
Sununu has primary foe
Julian Acciard stayed true to his word, confirming last week that he would oppose Sununu's bid for a fourth term.
The former Marine veteran had been running for the GOP 1st Congressional District nomination but decided to go after Sununu after the governor's anti-Donald Trump comedy routine in Washington last month.
Acciard intends to make Sununu's support for abortion rights a major issue in his longshot attempt.
"Sounds like the governor is saying in his own words that he directly will fight against Republicans once again on any reasonable restrictions on abortion," Acciard said.
"We could help women be so self-sufficient that abortion isn't even a consideration."
State revenues climbing
It's a new month, which means another 30 days of big revenue surpluses for state government.
In April, the state took in a staggering $506 million, which was $130 million (34.6%) more than expected and $72 million (16.6%) ahead of last year.
With two months left in the state fiscal year, the $2.8 billion in revenue is $382 million (16%) over forecast and $267 million (10.7%) higher than April 2021.
Business taxers continue to provide the lion's share of the surplus, paying $88 million more (46%) than expected in April.
Housing bill crashesFor nearly three years, Sununu has been working on legislation (SB 400) to create a more hospitable environment for affordable housing in cities and towns.
Last week the House sidelined his Senate-passed package of incentives after a House committee added several unrelated amendments.
State Rep. Kurt Wuelper, R-Strafford, said the bill would "destroy local zoning" by requiring all volunteer board members to get training.
The unrecorded vote to table the bill was 170-159.
Sununu said it was more important to get his $100 million InvestNH Housing Fund through the Executive Council, which he did last week.
Winning bidder bails
Our uncertain economic times are making state contractors nervous.
Last week, the Executive Council turned down a $2.1 million contract to build a new Department of Public Works office and salt shed near the Balsams Grand Hotel site in Dixville Notch.
The reason? The winning bidder, Ray's Electric of Berlin, decided it couldn't possibly do the work for the agreed-upon price in the face of rising costs.
"I'm afraid we are going to see more and more of this going forward, especially with rising interest rates," said Councilor Joe Kenney, R-Wakefield.
Anti-vaccine mandate win
The staff head of Rebuild NH, a group opposed to vaccine mandates that often was critical of Sununu during the COVID-19 lockdown, said it's already had a good 2022 legislative session.
State Rep. Melissa Blasek, R-Merrimack, posted on social media that by the end of last week, 15 bills the group had fought for were on their way to becoming law.
These include the standing order to dispense ivermectin (HB 1022), the option for parents to opt into the vaccine registry (HB 1606) and the ban on state enforcement of any vaccine mandates (HB 1455).
"We did very well and had very few losses," she said.
Now all of these have to get signed by Sununu.
Ex-Poland prez to NH
Lech Walesa, the former president of Poland and Nobel Prize winner, will make a few stops in New Hampshire this week.
He led the Solidarity trade union movement in the country.
Former Congressman and Ambassador Dick Swett and his wife, Dr. Katrina Lantos Swett, will host Walesa at a house party at their Bow residence Wednesday afternoon.
On Thursday morning, Walesa heads to the State House to speak to the Legislature at 10.
The stops are part of a U.S. tour to raise money for humanitarian efforts to support the millions of Ukrainian refugees arriving in Poland.
Given the work force shortage in state government, Sununu has to be happy when popular state agency heads want to stay on the job.
That's why he has re-nominated for four-year extensions Natural and Cultural Resources Commissioner Sarah Stewart of Manchester and State Librarian Michael York of Goffstown.
Stewart has been in her role since 2018, after Sununu convinced the Legislature to split the Department of Resources and Economic Development into two agencies, one focused on the economy, the other on cultural affairs.
Familiar higher ed faces
Sununu turned to some well-known names to fill vacancies on the state's higher education boards.
Former Health and Human Services Commissioner Nick Toumpas of Rye is Sununu's pick to serve on the Community College System Board of Trustees for a term that will run through June 2025.
Sununu also nominated Dover business exec Peter T. Paul to serve on the University System Board of Trustees. A University of New Hampshire graduate, Paul served for 14 years as a trustee with Boston University, where he got his MBA.
Paul's seat on the USNH board will be through mid-2024.
Filling top agency roles
Following some turnover in the top ranks of agencies, two important posts soon will be filled.
Revenue Commissioner Lindsey Stepp nominated Ora LeMere of Nashua to become assistant commissioner.
If confirmed, she will make $120,354 annually.
The longtime incumbent, Carollynn Lear, recently left state government.
LeMere has been with DRA since 2014, most recently as the director of the collection division, which pursues taxes owed to the state.
Information Technology Commissioner Denis Golet has put forward the nomination of David Heafey to become director of operations, a position that pays $113,568.
This is another example of promoting from within. Heafey has been the assistant director of operations for the past two years.
Shumway leaves board
Donald Shumway, a former health and human services commissioner, resigned last week from the New Hampshire Housing Finance Authority.
In his resignation letter, Shumway said it would be proper to leave the post to "avoid any appearance of conflict of interest" now that he has a leadership role in executing the Community Mental Health Agreement.
The agreement stems from a lawsuit brought against the state that resulted in a federal court decision ordering the state to do more to provide community services for residents with behavioral health issues.
Rep. launches Senate bid
State Rep. Michael Yakubovich, R-Hooksett, will officially launch his campaign for the District 16 state Senate seat with an event May 19 at New England's Tap House Grille in Hooksett.
"I fled the Soviet Union with only pocket change, worked hard, and achieved the American Dream for my family. I'm running to defend the American Dream from the radical socialists that are trying to take away our rights," Yakubovich said.
This Senate seat is the one Republicans are most likely to take from the Democrats now that redistricting has made it much more GOP-leaning.
Incumbent Sen. Kevin Cavanaugh, D-Manchester, is expected not to run for another term. He is being encouraged to mount a campaign for Executive Council and try to unseat Manchester Republican Ted Gatsas.
No doubt other GOP hopefuls will emerge. Some party leaders would love House Election Laws Chairman Barbara Griffin, R-Goffstown, to jump into the fray.
National Dems target NH
The Democratic Legislative Campaign Committee has chosen to make New Hampshire's House and Senate two of the five legislative chambers where they will try to flip majority control in the mid-term elections.
"These chambers are the best opportunities to gain ground due to redistricting, the landscapes of the states, and our current margins," the DLCC said in its target memo.
The other places the DLCC thinks it has a shot of breaking through are in the Minnesota Senate and the Michigan House and Senate.
The group, which has raised $30 million so far, claimed it had its most successful single day of fundraising in this cycle the day after the leaked memo from the U.S. Supreme Court about reversing Roe vs. Wade.
A fighter passes on
Claire Ebel of Concord, the former head of the Civil Liberties Union of New Hampshire, recently passed away at age 79.
Ebel will be remembered as a tireless advocate for the less fortunate who loved her Boston Celtics and otherwise kept her own counsel.